Cadillac V-Series Blackwing: Designed to Perform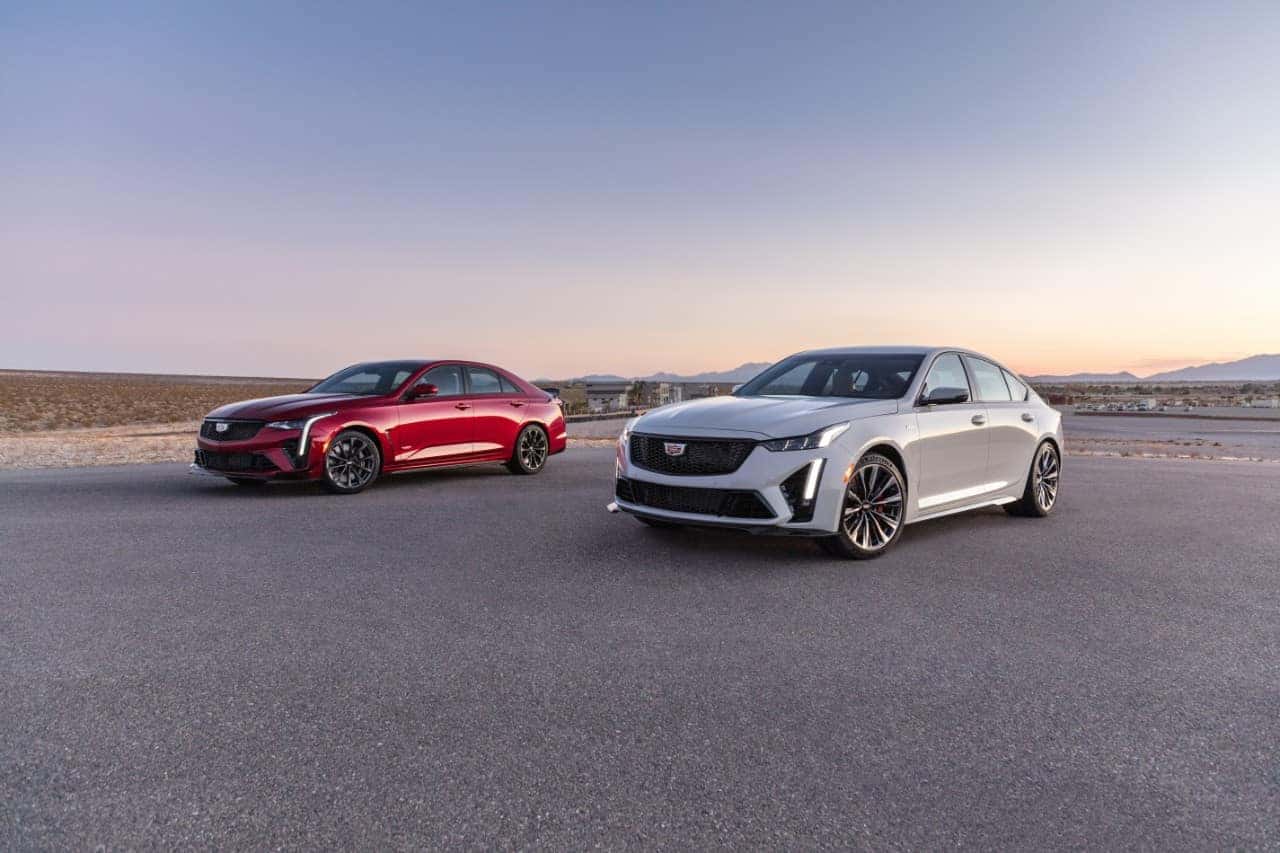 The 2022 Cadillac CT5-V Blackwing and CT4-V Blackwing represent the pinnacle of Cadillac performance and craftsmanship. These two vehicles are the most track-capable Cadillacs ever all while continuing to set new standards for luxury and comfort.
The V-Series Blackwing models were developed with driver engagement and performance as the main focus.
Updated Design Features
Interior

Three levels of premium interiors
Standard wireless Apple CarPlay and Android Auto
Wireless phone charging
Available high-performance front seats
High-performance steering wheel with carbon fiber accented racing seats
Unique manual transmission center console
AKG premium audio system with 14 or 15 speakers
Configurable instrument cluster with a 12-inch diagonal HD display with V-Series Blackwing graphics

Exterior

Full LED exterior lighting
New primary mesh grille design that improves airflow
Larger secondary grilles
Front splitter to reduce lift
Rear spoiler
Mid-body panels
Underwing
High-Performance
Rare for sport sedans today, a six-speed TREMEC manual transmission is standard on both vehicles. It has been optimized for each V-Series Blackwing vehicle to provide an engaging experience on the track or on the road. The CT5-V Blackwing and CT4-V Blackwing are also available with a 10-speed electronically controlled automatic transmission. It is tuned to complement the dual-personality experience of each respective model.
Highlighted features and output;
CT5-V Blackwing: 6.2L Supercharged V8 – 668 hp, 659 lb-ft of torque

GM-estimated top track speed: over 200 mph
GM-estimated 0-60 mph: 3.7 seconds (automatic transmission)
Most powerful Cadillac ever
Air intake airflow is improved by 46 percent vs. the CTS-V
Compact, high-output 1.7L four-lobe Eaton supercharger with small-diameter rotors that enable boost to be generated earlier in the rpm band for instantaneous response
Rotocast A356T6 aluminum cylinder heads are stronger and handle heat better than conventional aluminum-alloy heads
Lightweight titanium intake valves
Track-capable wet-sump oiling and vent system with external oil separator and drainback

CT4-V Blackwing: 3.6L Twin-Turbo V6 – 472 hp, 445 lb-ft of torque

GM-estimated top speed: 189 mph
GM-estimated 0-60 mph: 3.8 seconds (automatic transmission)
Most powerful and fastest Cadillac in the subcompact class
Air intake restriction is improved by 39 percent vs. the ATS-V
Turbocharger compressors matched for peak efficiency at peak power for optimal track performance
Titanium connecting rods (manual transmission only) and revised crankshaft counterweights reduce main/rod bearing reciprocating loads
Re-targeted piston oil squirters, which direct engine oil at the bottoms of the pistons, for improved temperature control
The manifold-integrated water-to-air charge cooling system contributes to more immediate torque response
Airflow routing volume is reduced by 60 percent when compared to a conventional design that features a remotely mounted heat exchanger